Rustoleum pourable speed patch
for concrete repair pourable grade
Quick setting, pourable patch repairs for heavily trafficked floors. A quick and easy way to fill holes in heavily used concrete floors inside or outside. sets for foot traffic after only 30mins.
No primer is required - just mix the powder with water and pour into the hole. This rapid setting concrete repair bonds to damp or dry surfaces and can be applied at thicknesses from feather edge to 100mm.

Sets for foot traffic after 30 minutes
and heavy traffic after 2 hours

Usage rate: 25kg covers 2.5m2 at 5mm thickness
Size available: 25kg


To order Rustoleum pourable speed patch please select the required product option below or call us on 01933 626225.
Technical Specification
Mixing and Application:
Mix approx 150ml - 200ml of clean cold water with 1kg of powder to produce a pourable slurry. Mixing by hand using a spatula or similar wide blade reduces air in the mix and breaks up lumps. Adding too much water can weaken the mix. Once mixed the product starts to set very quickly, so use immediately and do not mix more than can be used within a few minutes. Do not re-stir - this can produce a weakened, crumbly mix. Pour slurry into the hole. It should self-level,
so trowelling is not generally required.

Curing:
Pedestrian Traffic: 30-60 minutes. Heavy/Forklift Traffic: 2 hours. The above assumes a temperature of 15 C or above. Curing time can be extended by low temperatures. As a guide allow 24 hours at 5 C.

Pot Life:
5 to 10 minutes at 20 degrees C.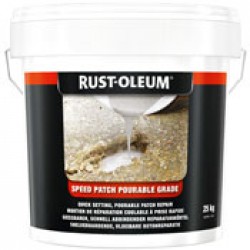 Brand:

Rustoleum

- SKU: speed-patch-pourable
---
Quick Order
Product Information Downloads
Share this product...
Rustoleum pourable speed patch product terms
concrete repair, broken concrete, rustoleum, speed patch, pourable speed patch