Janerol "SMART" Epoxy Concrete Crack Repair Resin
You know most epoxy mortars fall out due to vibration, this non cementitious epoxy resin will need a digger to get it out, stronger than concrete and easier to use. Try it, you wont be disappointed
For a Smart repair of holes, cracks and expansion joints in concrete. No troweling needed just mix, pour and go! The professional choice for a permanent repair.

A truly versatile liquid epoxy resin that once mixed will key to just about any substrate. Designed for the filling and repairing of broken concrete floors whether the damage is a crack, a hole or a joint.Will not fall out like traditional concrete repairs. Available as a 2.5kg 7.5Kg
high bond strength, non shrink. Excellent chemical resistance.

To order Janerol "SMART" Epoxy Concrete Crack Repair Resin please select the required product option below or call us on 01933 626225.
Technical Specification
Epoxy resin and activator, a typical 7.5 Kg kit comprises of a 5.25Kg tub of Resin and a 2.25Kg bottle of hardener/activator. . Mix for 3 mins with slow paddle drill if possible.
Store at room temperature 10 degree c or above.
Minimum temperature of 10 Celsius needed for curing. Lower temperatures increase hardening times.Product ready for traffic at 15-20 degree temp' after approx 6 -8 hours.Forklift truckable after 24hrs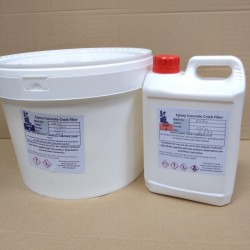 ---
Quick Order
Product Information Downloads
Share this product...
Janerol "SMART" Epoxy Concrete Crack Repair Resin product terms
concrete floor repair, epoxy floor, epoxy resin, expansion joint,concrete repair products