Industrial Grade Sigma two pack Epoxy Floor paint
Its worth paying the extra! Forklift truckable epoxy floor paint where abrasion resistance is important.
A quality quick drying two pack epoxy floor paint available in a range of colours. Solvent based this paint is designed to be used where traffic conditions make normal floor paints wear out.
Hard wearing and resistant when cured to oils etc make it ideal for use in warehouse factory environments.Industrial Grade.
Mix the small tin into the large, stir well, pour into tray and paint ( no measuring out ratios!) Used by those in the know.
To order Industrial Grade Sigma two pack Epoxy Floor paint please select the required product option below or call us on 01933 626225.
Technical Specification
Solvent based. 3.2ltr paint +0.8ltr activator (4ltr pack). Coverage approx' 7-9 square metres/ltr depending on floor conditions/application.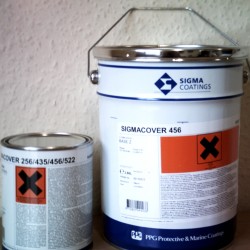 Brand:

Sigma

- SKU: S2PE
---
Quick Order
Product Information Downloads
Share this product...
Industrial Grade Sigma two pack Epoxy Floor paint product terms
paint, epoxy paint, floor paint, forklift paint, 2 pack epoxy paint,concrete paint,garage floor paint, hard wearing floor paint, anti slip floor paint