Tygris One Wipe
industrial wipe
Fed up with having to use a variety of different wipes to remove different residues. Janerol is confident we can solve your problem by supplying One Wipe a truly remarkable wipe that shifts almost anything you can throw at it.
Developed to clean tough stuff, the new Tygris OneWipe will clean almost anything! These wipes are made from strong tear resistant material, contain powerful anti-bacterial additives and you get 110 per tub!
One wipe will effectively clean tough stuff such as;
Adhesive, Bitumen, Expanding Foam, Epoxies, Joining compounds, Mastic, Paint, Polyurethanes, polyester Fillers, Sealants and many other wet and semi-cured substances as well as being very effective for the fast removal of containments like Oil, Grease. Ink and Petrol from Hands, Tools, machinery and similar Interior and Exterior Surfaces.
To order Tygris One Wipe please select the required product option below or call us on 01933 626225.
Technical Specification
Contains a lanolin based moisturiser which conditions the skin preventing dryness and cracking.

Citrus odour
Anti Bacterial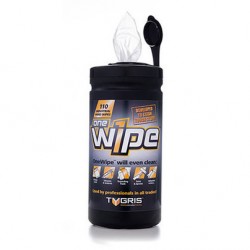 Brand:

Tygris

- SKU: Tywipe101
---
Quick Order
Product Information Downloads
Share this product...
Tygris One Wipe product terms
wipes, mastic, universal wipe, anti bac wipe, paint removal wipe, camouflage paint removal wipe, paintball wipe